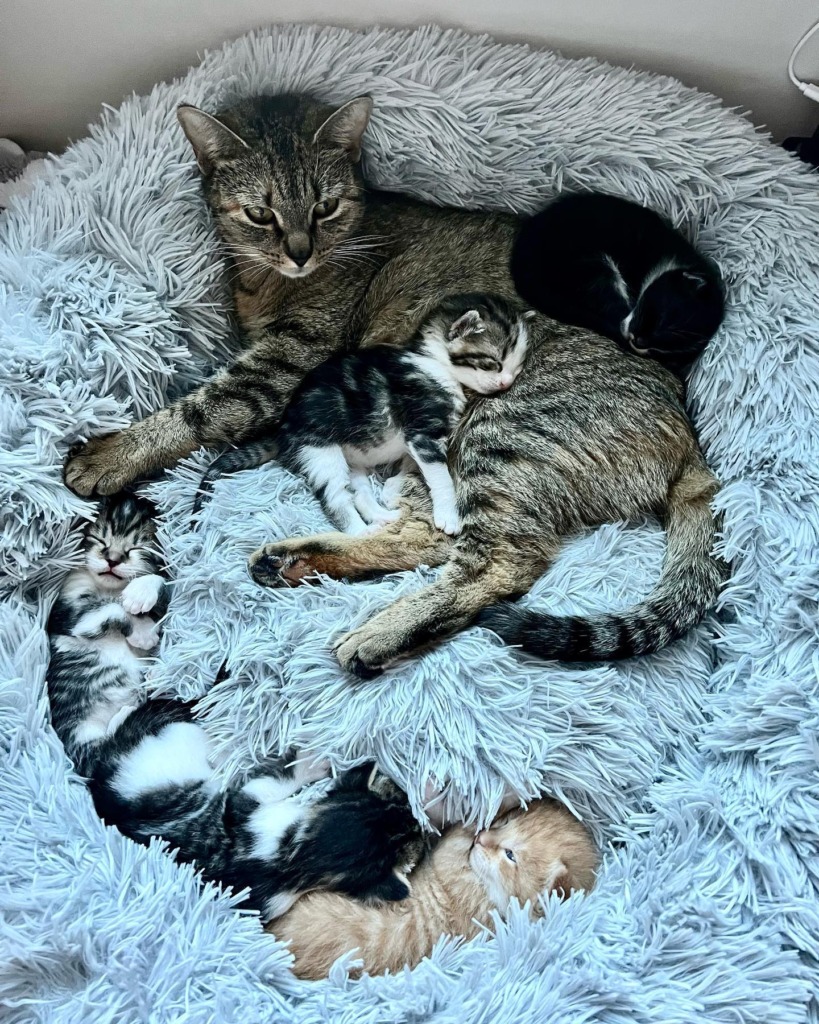 Please complete the online form below to foster and find out how you can help a kitten along its journey to a new home environment.
Thank you for your interest in being a foster home to one (or more) of our kittens! We don't have a shelter; we rescue strictly through fostering, so we wouldn't be able to do what we do without people like you. You don't have to be a skilled professional to do this, and fostering is a very rewarding experience without a permanent commitment to an animal.
You can help by providing a home and the daily care necessary for the kittens, while they get ready for a new home. Some kittens are ready to go and need shelter only for a short time before undergoing spay or neuter, and some of our angels may need medical attention or extra socialization. And don't worry, Kitten Angels provides food, supplies, and veterinary care. You provide a home, the transportation to the clinics, and your love so your angel can be adopted.
In most cases, you will need a room where they can be separated from any other animals in your household. Mama kitties will do whatever they have to in order to protect their kitties, even when they are normally friendly and get along with other animals; so it's very important to keep them apart from any other animals. Any animals you have need to be up to date on their vaccinations, as nursing mamas and kittens under 7 weeks aren't vaccinated and won't be tested for FIV/FELV until spayed or neutered. When fostering for us, we ask that you not take in any other cats or kittens, as they could bring something that could spread to a whole household or wipe out a whole unvaccinated litter.
Kittens can get spayed or neutered when they are at least 2 months old and weigh at least 2 pounds. Then they would need 5 days for boys and 10 days for girls (and mama) to recuperate until they were all healed before they would be ready to go to a forever home. We cover the cost of vaccinations, spay/neuter, and testing (we would just need you to be able to take them to appointments). We try to provide food, litter, and other necessities to our fosters through donations.
Fosters bring their kitties to one of our adoption events at our pet partner locations on Saturdays or Sundays, usually from 11 a.m. to 3 p.m. Our adoption events are advertised through our Kitten Angels Facebook and Instagram pages. It would be lovely if a foster could stay at these events to talk to people about each of the kitty's personalities, particularly if they are shy at the events. People learn so much about whether a kitten will be the purrfect fit in their household by talking to you. Foster parents bring them home again if they are not adopted.
For us, the biggest boost to getting our foster kitties adopted has been posting lots of pictures, videos, and updates on Facebook and Instagram. A few of us have our own foster page too, where we talk more about fostering and pretty much drown people in gorgeous kitten pictures and videos.
The joys of fostering are immeasurable. The trust that's built, the cuddling, the care, the purrs. It's an experience you should not miss.